Welcome! Start Here.

Welcome to Student Affairs Futures. I built this course because of the incredible amount of disruption taking place in higher education, and the resulting imperative for new ways of approaching the student affairs practice.
Changing demographics, declining enrollment, and disruption from inside and outside higher education are all beginning to shape what might hold for student affairs practitioners, and it will take bold leadership to adapt and thrive in this new reality.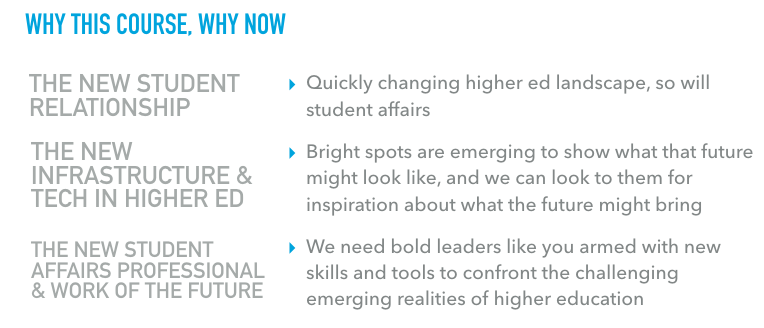 Uncertain futures are scary, but let's get in a time machine and explore what work might look like for student affairs professionals, and how to position and prepare yourself for successful futures supporting the learner of the future.
This course is a collection of trends research, data, case studies, and supported conjecture. It's the result of thousands of hours remaining attuned to what's taking place in the higher education landscape combined with influence from adjacent industries. I don't have a crystal ball, but the guiding principles and insight that result in an action plan for student affairs practitioners to prepare for the fundamental truths in the new world of work.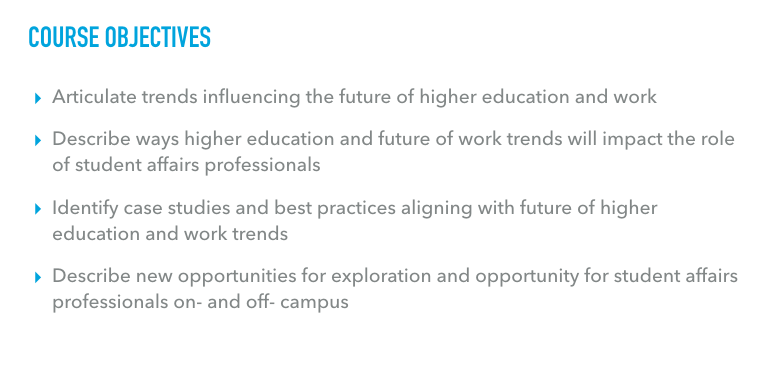 What you can expect:
+ Trends research and news clippings organized for insight
+ Case studies of today's most insightful and relevant predictors for Student Affairs futures
+ Synthesis & speculative exploration of trends shaping what the future of work might look like for Student Affairs pros
Course format:
The course starts now and never ends! It is a completely self-paced online course - you decide when you start and when you finish.
I've built each major 'module' of the course to take about 40 minutes to review in depth, but there are hundreds of resources in the link library (along with 'supplemental' videos) that can lead to hours of exploration.
Alongside the core course content I am building a growing library of 'case studies' that include signals from the emerging models in higher education.
Community Guidelines:
This course is built on the premise of offering a lighthouse for the critical considerations to succeed in the future of student affairs for all professionals. We're unified around confronting uncertain futures by explore potential pathways forward, but make no promise about the likelihood for a future that has yet to fully emerge.
With these foundations in might, use this course as a space to unify, uplift, support, and help others succeed, whether through comments or submissions into public course content. If you have questions or concerns about course content, reach out to Brian at [email protected].
Want credit for this course?:
While this course is not currently built to qualify for academic credit, I'd love to work with your program to explore ways to offer credit for this course. If you are a student affairs graduate student and think this course content might a useful addition to your student affairs programs' offerings, feel free to introduce me via email to your program director at [email protected] (you can start with the form email found here).