About Your Instructor: Brian LeDuc

Brian LeDuc has spent his career authoring experiences and strategies to help students and administrators adapt to the emerging realities of higher education and work.
He's contributed to nationally recognized programs for students and supported projects resulting in transformative improvement of student outcomes [I], receiving national recognition in the Chronicle of Higher Education, Washington Post, and Inside Higher Ed.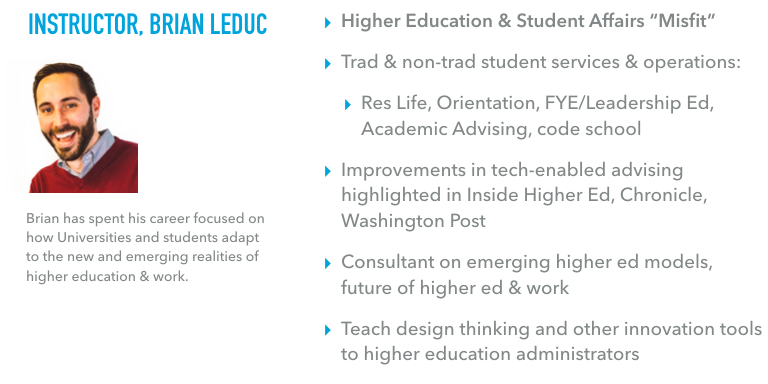 Brian regularly speaks and writes for higher education leaders and administrators on emerging trends and innovations in higher education, serving as a panelist in discussions about the future of higher education [I] and micro-credentialing, and presenting on higher education alternatives and the future of work. Sometimes he's even a guest on podcasts [like the Student Affairs Spectacular 1 and Higher Ed Geek 2].
He regularly translates these topics into actionable advice and engaging workshops and retreats for high school and college students alongside skill-building sessions focused on career design, values exploration, team building, group dynamics, organizational goal setting, and digital identity development. These days, you might even find him on campus sharing his co-authored toolkit for coaching students through their career development in the new world of work [more here]. He activates this methodology through immersive training sessions.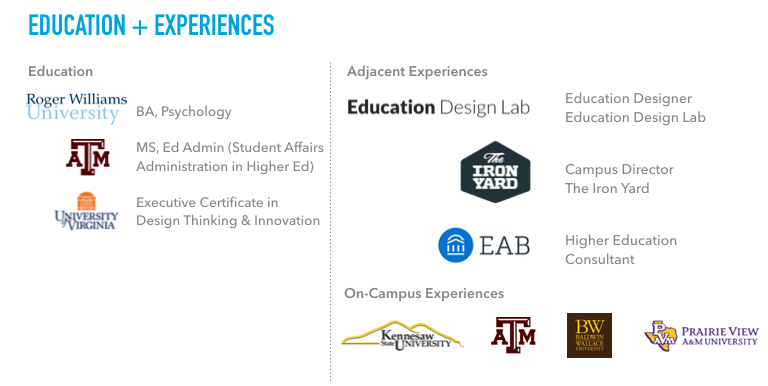 You can learn more about Brian and his work at the following links:
Don't forget to connect and interact with him on Social Media!